9 Nail Designs with Rhinestones
Placing stones on your nails will help make any simple design stand out, even look more elegant.
So here we want to show you the best nail ideas with rhinestones, no matter if they are long or short, you will find something for all sizes and tastes. Although there are designs that you can use for day to day, these nails are ideal for your party outfits, so if you have an event, do not hesitate to include them.
Nails in nude and light pink
This is a nail design that will match almost anything you decide to wear, plus your hands will look more delicate. The proposal is that you paint three of your nails in a nude color, then one with a pink glitter and the other in a matte pink tone, but with rhinestones on the bottom. You can paint them as shown or change the order.
Nails in nude and blue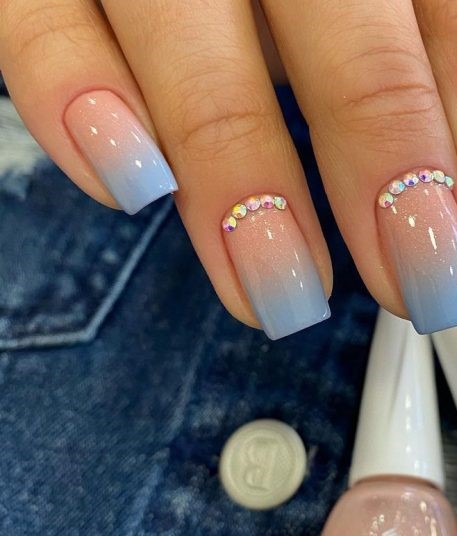 This is another nail design idea that is not too simple, but not too extravagant, it sits somewhere in the middle that is very flattering. Here two colors are mixed, which are nude and light blue or pastel, while some simple stones are added to the base of one or at most two of your nails.
Nails in light blue and glitter
This nail design is perfect for the end of the year season, but using softer colors. The idea is that 4 nails are painted pastel blue and in one of them form the Christmas tree with stones, while in the other the nude color is used with a little shine. You can also place a stone at the base of the other nails.
Nails in red color
This is another design that you may also like, since the stones will take more prominence. The proposal is that you leave one or two of your nails painted matte white, while the others go red. In the white nail use stones of various sizes, to create a different design. Remember that you can change the colors.
Nails with minnie decoration
If you like designs a bit childish, then this idea is perfect. Paint your nails the color that you like the most, it does not necessarily have to be salmon, while the nail on the ring finger includes the drawing, which in this case is the minnie. On top of the drawing, mix small and large stones and voila, that will be enough.
Fuchsia nails
It is a nail design that also has a drawing and the chosen color is stronger, but that is combined with a nude to maintain balance. Paint 3 of your nails fuchsia, while the two in the center go in a nude tone, then place the stones in one of them, while in the other you include the drawing that you like.
Black and white nails
This is a nail design that will serve you for any occasion, whether it is to use in your daily life or a special event. You can choose two decorated nails as shown in the picture or just one nail, if you want the design to be simpler. In the decorated nails you must combine nude or transparent with white, black and stones.
Nails in white and glitter
This is another of the options that are also very versatile, since you will be presentable with any wardrobe, thanks to the fact that the colors are basic and the decoration is not very loaded. Paint three of your nails in the French style, while the two in the center include glitter, some very fine white lines and of course, the stones.
White and nude nails
Lastly, we have this simple nude and white rhinestone nail design. You can leave all your nails as shown in the image or leave the decoration, while the others are only painted white. Remember that everything can be modified according to your tastes, these ideas are only an inspiration to create new designs.