How to remove scratches from any surface
Without a doubt, scratches ruin any surface, be it wood, glass, leather, plastic, stainless steel, etc. The question is how to eliminate or hide these defects that affect the appearance of the furniture or whatever.
The truth is that if it is something superficial, maybe we can solve it with a light sanding and paint. Unfortunately, it is not always resolved that easily.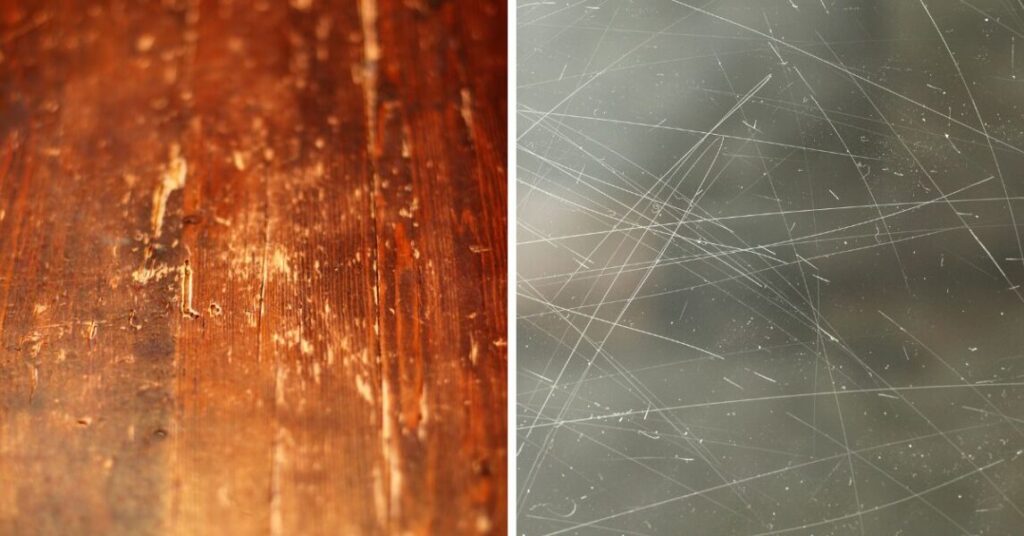 Next we will see homemade solutions to repair or remove scratches from any surface:
Remove scratches from glass surfaces
Now we will see some homemade recipes:
Toothpaste
To begin with, we must choose a simple toothpaste without being whitening. We simply put a little toothpaste on a cotton pad and apply it to the surface with scratches, we will make circular movements.
To finish, we remove the excess water and observe the results.
Vegetable oil
With a clean cloth or microfiber cloth we are going to moisten it with a little vegetable oil and rub the scratched surface for a few seconds, we can make circular movements and see if the surface improves.
Vaseline
Like vegetable oil, with Vaseline we can apply it in the same way. You can use liquid or paste Vaseline, either one is very useful.
Sodium bicarbonate
Simply mix a little baking soda with water and form a paste, then apply to the scratched glass and spread with a clean cloth. To finish, we wipe off the excess with a clean cloth or damp cloth, removing everything.
Remove scratches on the wooden surface
In wooden furniture it is very common to see scratches on the surfaces, in fact they are very vulnerable, let's see what we can do:
Nut
This trick is simple and just using a walnut, actually with half a walnut we use it to rub on the scratch.
When the scratch turns dark with the same color as the walnut, we take a napkin and pass it to level the tone. To finish, we painted over it with the transparent nail polish.
Mayonnaise
Although it seems strange, mayonnaise can correct a superficial crack in the wood, we just have to apply it to the crack with a piece of cotton.
We will leave it there for about 3 days to act, and then with a slightly damp cloth wipe off the excess mayonnaise. Finally, we will see how the wood will expand and close the crack or fissure.
Scratches on the stainless steel surface
There are some homemade tricks to apply on stainless steel surfaces:
Argan oil
Argan oil helps a lot for this type of scratch on stainless steel, the same one we use for hair. Just by moistening a cotton pad in the oil and applying it to the scratched surface, we distribute it evenly.
Scratches on plastic surfaces
Without a doubt, we have a lot of plastic parts in the house, so let's pay attention to the following tricks:
Hair dryer
With this trick the idea is to apply heat to make the superficial scratch disappear, to achieve this you have to turn on the dryer and put it on minimum power. It will be enough to give it heat in the direction of the scratch, we leave it for a few seconds and heat again but increasing the power.
Afterwards, we let it cool down for about 15 minutes and then we polished it.
Let's apply all these tricks and tips to remove scratches from surfaces!